Olympia Fields Park District is dedicated to providing quality leisure facilities and recreation/education for children, teenagers, adults, seniors and persons of all ages with disabilities. It is also the Park District's goal to preserve open space within the community to assure a high quality environment now and in the future for all Olympia Fields' residents.
The Park District owns and maintains 142 acres of parks and open space, encompasses 10 park sites, with baseball fields, soccer fields, playgrounds, tennis courts, trails, sledding hills, Disc Golf, and adventure center facilities located in the various park sites.
Denise Will, Executive Director
denise@ofparks.org
708-481-7313, ext. 225
Eric Darwell, Superintendent of Parks
eric@ofparks.org
708-481-7313, ext. 229
Mallory Dodds, Manager of Facilities & Adult Programs
mallory@ofparks.org
708-481-7313, ext. 222
Jesus Vargas, Manager of Special Events & Youth Programs
jesus@ofparks.org
708-481-7313, ext. 226
Beverly Meekins, Treasurer
beverly@ofparks.org
708-481-7313, ext. 228
Anna Broccolo, Marketing Manager
anna@ofparks.org
The Olympia Fields Park District is governed by a volunteer Board of Commissioners whose members are elected at large for six year staggered terms. The Board is responsible for the policy making decisions while the day to day operations are the staff's responsibilities.
Lori Carlton-Jordan, President
Jasmine McGuire-Smith, Vice President
James Aloway, Commissioner
Tony Martin, Commissioner
Eric Anderson, Attorney
The Olympia Fields Park District Board of Park Commissioners meets the third Tuesday of each month in the Red Door Barn East Activity Room, 20712 Western Avenue, at 6:00 pm.
The Olympia Fields Park District has a vacant position on the Park District Board of Commissioners. Please click here for details.
Regular Meeting Schedule
Tuesday, May 16, 2017 (annual meeting)
Tuesday, June 20, 2017
Tuesday, July 18, 2017
Tuesday, August 15, 2017
Tuesday, September 19, 2017
Tuesday, October 17, 2017
Tuesday, November 21, 2017
Tuesday, December 19, 2017
Tuesday, January 16, 2018
Tuesday, February 20, 2018
Tuesday, March 20, 2018**
Tuesday, April 17, 2018
**The regular March meeting of the Board of Commissioners of Olympia Fields Park District has been moved to Wednesday, March 21, 2018 at 6:00 pm.
Meeting Minutes
February 2018
December 2017
November 2017
October 2017
August 2017
July 2017
June 2017
May 2017
April 2017
March 2017
February 2017
December 2016
November 2016
October 2016
September 2016
August 2016
July 2016
June 2016
May 2016
April 2016
March 2016
February 2016
January 2016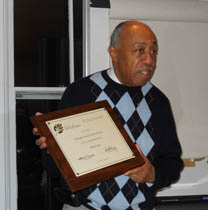 Tim Bradford presents to the Park Board the 'Friends of Illinois Parks' award bestowed upon the Park District by the Illinois Association of Park Districts January 26, 2012.
The Olympia Fields Park District is an autonomous unit of government and was organized in February, 1956. At that time, the Village population was approximately 350. The Park District has nearly the same boundaries as the Village with the exceptions of the Graymoor subdivision, which is not in the Park District, a number of minor parcels and a strip mall which are in the Park District but not in the Village. The Park District is governed by a five member board, with the members elected at large for six-year staggered terms.
The Park District leased its first 10 acre park, Sergeant Means Park, from the Village in 1966. The site was named in memory of an Olympia Fields police officer killed in 1967. Elliott Woods Park (6.8 acres) was donated in 1967 by Mr. Dana Elliott. Over the years, the Park District has expanded to encompass 10 park sites totaling 142 acres. This increase in park acreage is primarily the result of individual land donations and of land acquisition utilizing federal and state land acquisition grant monies. Only one 10 acre parcel (previously known as Cull's Nursery) was purchased without outside funding or a donation.
The Park District has conducted recreation programs since its inception in 1956. In the early years, the Park Board of Commissioners organized and administered the programs. The Park District hired its first Director of Parks and Recreation in 1973. The District then began renting office space, first in Tolentine Center until 1976, and then in Governors Office Park until 1994, when the renovation of the farm house at Sgt. Means Park into the Administration Center was completed.
In 1973, the Park District became one of the charter members of the South Suburban Special Recreation Association, which has expanded to encompass eight park districts and three recreation departments. In 1985, Olympia Fields Park District developed one of the first accessible playgrounds in the Chicago area at Bicentennial Park.
In 1978, the Olympia Fields and Homewood-Flossmoor Park Districts jointly purchased and established the Irons Oaks Environmental Learning Center. This 37 acre park site is innovative with its therapy gardens, adventure center, and environmental education and outdoor recreation programs. In 1987, Irons Oaks received the "Take Pride in America" National Award. In 1990, Irons Oaks was the recipient of a special Land and Water Conservation Fund "Take Pride in America" State Award. Both awards were focused on volunteer efforts to conserve and steward the land and its natural resources. In 1993, 2.8 acres of woods on the corner of Western & Vollmer were added to this innovative park site.
"A New American Green" Design Competition was initiated in October, 1990. This followed the purchase of the 10 acre Cull's Nursery site in 1985 and the donation of the existing 10 acre Sgt. Means Park site from the Village of Olympia Fields. The combined 20 acre community park site with its three historic buildings became the focus of the National "New American Green" Design Competition. As a result of the competition, the Park District not only secured an award winning design for its new 20 acre community park, it also received tremendous press coverage. Front page articles appeared in both the Chicago Tribune, Star, and Daily Southtown newspapers.
Following the Design Competition, work immediately began to further develop and implement the design. Phase I of the design was completed in June 1994, and the Barn Meeting Center received an award from the Structural Engineering Association for Innovative Design. In 1995, the Illinois Park and Recreation Association awarded Sgt. Means Park its "Outstanding Park and Facility Award". The park received the Park and Recreation Association's "Outstanding Facility Award" for the Barn Meeting Center.
In 1999, the Olympia Fields Park District received the prestigious IAPD/IPRA "Distinguished Agency Award" for the District's dedication to all citizens of the Olympia Fields Park District in providing leisure service opportunities. Olympia Fields Park District was only one of 30 districts within the state to attain this award and first small park district to do so.
The Olympia Fields Park District continues to strive to preserve open space in the form of quality parks and to provide safe and accessible quality recreation programs and facilities to ensure a higher quality of life for its residents for today and for the future.
A focal point for the community – rich in heritage and promise.
Step into the past…
Sergeant Means Park was originally part of a 600 acre farm that included the area which is now Irons Oaks Environmental Learning Center. A.J. Mason was the owner of the expansive site from 1918 until 1934. The 20 acres which now encompasses Sgt. Means Park changed hands a couple of times before being purchased by Louis Cull in 1949. With his sons Tom and Ed, Louis Cull founded Cull Nursery in 1955. Ten acres of the nursery were developed into a park site in 1967. This land was named in tribute to Olympia Fields Police Sgt. Chester Means, who died December 15, 1967 of injuries sustained while on duty. In 1985 the Olympia Fields Park District acquired the remaining 10 acres of the Cull Nursery and decided to incorporate the land and historical buildings into a recreational "common ground" for the community.
The Park District's Administration Center, Cull House, is an actual 1890's farmhouse. This lovely frame home contains the original square nails, and interior lumber features full-sized two-by-fours and two-by-sixes. "Finished" lumber with reduced dimensions was a process developed by the lumber industry years later. This home is accented by a Milk House which adds to the historic character of the park.
Another interesting link to the past is the charming 1917 barn opposite the home. This nearly 100 year-old structure is a masterpiece of early carpentry techniques. The restoration of the barn allows the ability to admire the original high beams which were joined with mortise and tenon, then pegged with wood dowels. No nails were used in the barn's original construction! The 1917 barn and a new silo provide the community with meeting facilities – and they both offer a lovely park view!
This site is home to many of the district's special events, including the Pumpkin Festival, a harvest-themed event that draws hundreds of patrons from the community.
To find a listing of available job opportunities click on the link below.
Current openings include:
Tolentine Park Splash Pad Attendant (closing date May 12)
Summer Camp Counselor (closing date May 12)
Summer Camp Director (closing date May 12)
Part-Time Program Instructor
Seasonal Part-Time Maintenance
www.applitrack.com/ofpd/onlineapp
Information regarding all park district employees having a total compensation package that exceeds $75,000 per year, and information regarding all proposed compensation packages exceeding $150,000 per year, if any, are available at the principal office of the park district, Cull House, Sergeant Means Park, 20712 Western Avenue, in the Village of Olympia Fields, Illinois.
Irons Oaks
www.ironsoaks.com
Irons Oaks is owned and operated jointly by the Olympia Fields Park District and the Homewood-Flossmoor Park District. A unique park, Irons Oaks Environmental Learning Center is committed to preserving the beautiful oak forest and quality open spaces of over 37 acres. On an annual basis, over 25,000 individuals of all ages have participated in the diverse activities associated with the park. The Irons Oaks Adventure Center allows individuals to explore the challenge of the teams course, the high-ropes course, as well as the 50′ climbing walls. Archaeology classes, pioneer camps, canoe trips, wreath making, cross country skiing, nature photography classes, and many more opportunities both on and off site are available. As its recreational and environmental educational opportunities expand, do take advantage of this beautiful nature park.
Irons Oaks Foundation
http://www.ironsoaks.com/foundation/general-information.aspx
The Irons Oaks Foundation was established to support Irons Oaks projects that the museum could otherwise not afford. To this end, the Foundation has established community programs, services and other funding mechanisms to fund special projects at Irons Oaks.
Programs, services and funding mechanisms include the following:
Special event programs including Lunch with a Raccoon, a popular event for area families.
Active participation in community celebrations and environmental fairs.
Active participation in national parks awareness campaigns.
Native landscaping memorial recognition.
Foundation membership services (over 150 current members).
Publication of a bi-annual newsletter.
Annual giving campaigns from our membership and community organizations.
Fundraising campaigns.
Foundation contributions to Irons Oaks have funded several special projects, including:
Prairie, Pond and Wetland Habitat Improvement Projects
Land Acquisition Projects
Open Space Enhancement (Structure Demolition, Therapy Garden, Educational Facility
Renovation and Construction of Wildlife Viewing Areas)
Affiliate Organizations
South Suburban Special Recreation Association
www.sssra.org
SSSRA is a therapeutic recreation program that is an extension of eight park districts and three recreation and parks departments. It is organized to provide individuals with disabilities or special needs, the opportunity to be involved in year-round recreation.
Associated Sites
Village of Olympia Fields
www.olympia-fields.com
Park Forest Public Library
www.pfpl.org
Illinois Park and Recreation Association (IPRA)
www.ilipra.org
IPRA is a not-for-profit organization and public interest group whose members share the common goal of providing quality park and recreation opportunities for citizens of Illinois. Many of the District's professional staff are members of this state association.
Illinois Association of Park Districts
www.ilparks.org
IAPD is a not-for-profit service, research, and education organization that represents park districts, forest preserve districts, and conservation and recreation agencies. The Olympia Fields Park District is a member of this public interest organization.
National Recreation and Park Association
www.nrpa.org
NRPA is a national not-for-profit organization dedicated to promoting the benefits of park and recreation on a national level.
Park District Risk Management Agency (PDRMA)
www.pdrma.org
PDRMA is a joint risk management pool of more than 150 Illinois agencies, primarily park and forest preserve districts. PDRMA provides the district with general liability, property, worker's compensation, and employment practices insurance coverage.
Please see below for financial information for Olympia Fields Park District. Please contact Denise Will, Executive Director, for additional information.