The Park Board of Commissioners encourages you and your family to utilize your neighborhood parks and facilities, incorporating an "active living/healthy lifestyle" concept into your activities. Whether it is a walk on the trails of Tolentine Park, a game of disc golf at Sgt. Means Park, a tennis match at Arcadia, a visit to the playground at Maynegaite Park, or a picnic and game at Bicentennial Park, please take the opportunity to enjoy each park site with your family and friends.
Please visit ofparks.org/rentals for information on park and facility rentals for your next party, wedding, or event.
The Olympia Fields Park District has a total of 144.7 acres of parkland ranging from Totlots to Community Parks to an Environmental Learning Center. Please click on the individual park site for individual features.
Arcadia Park
Located at the intersection of Arcadian Drive and Ionia Avenue (205th St). Adjacent to Arcadia School.
– 1.5 Acres
– Accessible Playground
– Picnic Area
– Picnic Tables
– Athletic Fields
– Sledding Hill
Bicentennial Park
Located on 203rd Street between Governors Highway and Kedzie Avenue.
– 14 Acres
– Accessible Playground
– 1 Picnic Pavillion
– Picnic Tables
– 3 Soccer Fields
– 2 Baseball Fields
– 1 Sand Volleyball Court
– Horseshoe Pits
– Pedestrian/Walking Path
– 56 Parking Spaces
– Restrooms
– Sledding Hill
Elliot Woods Park
Located at the end of Evergreen Circle off of Route 30.
– 6.8 Acres
– Natural Wooded Area
– Nature Trail
Irons Oaks Environmental Learning Center
Located on Vollmer Road and Western Avenue.
– 37 Acres
– Environmental Learning Center
– Administrative Offices
– Meeting Rooms
– Adventure Center
– Teams Course
– High Ropes Course
– Climbing Tower
– Cooperative Program
– Pedestrian Trails/Cross Country Skiing
– Pond
– Prairie
– Therapy Garden
– Butterfly Garden
– Wildflower Garden
– Wildlife Viewing Area
– Oak, Hickory and Riparian Forests
– Picnic Tables
Maynegaite Park
Located at the intersection of London Drive and Orchard Drive.
– 4.2 Acres
– Playground for ages 6-12 yrs.
– Picnic Area
– Picnic Tables
– 1 Soccer Field
Sgt. Means Park
Located at 20712 Western Ave. 4 blocks north of Lincoln Hwy.(Rte. 30).
– 20 Acres
– Playground
– Picnic Pavillion
– 2 Picnic Areas
– Picnic Tables
– 20 Hole Disc Golf Course
– 2 Soccer Fields
– 4 Tennis Courts
– 1 Baseball Field
– Pedestrian Walking Path
– Wildflower Slope
– Meeting Center with Banquet Facilities
– Administrative Offices
– Sledding Hill
– Restrooms
Spirit Trail Park
Located at 20748 Greenwood Drive
– 35.5 Acres
– Natural Wooded Area
Tolentine Park
Located at 20700 Governors Highway.
– 10 Acres
– Splash Pad
– Community Garden
– Playground
– 2 Basketball Hoops with Three Point Arc
– Picnic Pavilion
– Bike/Walk Path
– Garden Maze
– Sensory Garden
– Parking Lot
– Site Development Plan/Map
Trails of Olympia
Located throughout the Trails of Olympia Subdivision between Governors Highway and Kedzie Avenue south of Vollmer Road.
– 12.4 acres
– Walkway/Trail System Throughout Subdivision
Located at 20700 Governors Highway
Park Hours: Dawn to Dusk
Splash Pad
2017 Splash Pad Hours of Operation
NEW Open Splash Times*:
Noon – 4:00 pm, Monday – Friday
Noon – 6:00 pm, Saturday and Sunday
*Spray features will not activate outside the open hours
NEW 2017 Splash Pad Fees
$2 per person, per admission
Daily entry fee can be paid at the Splash Pad by cash only.
FREE entry days: May 29, July 4, and September 4
The Park District reserves the right to close the Splash Pad due to inclement weather, high winds, or mechanical repairs.
Please call 708-481-7313 or view our Summer brochure for additional information, including Splash Pad rentals.
About Tolentine Park
When we started to plan a new park several years ago, we first looked at our mission. We needed a park that was not only innovative but also was a prime example of sustainable initiatives. Tolentine Park is our vision at its best, which is "To deliver the ultimate experience in recreation and park services". After countless hours of planning, and with some help from the Illinois Department of Natural Resources, we built it; now all we need is you.
Our newest park has a variety of park features for all ages. One of our most popular features of the park is our Splash Pad. It has 12 nature-themed water features, and is a fun and cool relief for those hot summer days.
Besides the Splash Pad, we have many other places for children to have fun and play in the outdoors while enjoying nature. We have a great playground, complete with 4 slides, child and infant swings, chess table, and built-in bean bag toss! Then they can solve the mystery of how to get in and out of the garden maze!
If you take a stroll down our walking/biking path, you will be able to pass through all four of the eco-systems we have located at the park. You will pass a farm, prairie grass, wetland, and forest. Each is home to a variety of animals, birds and insects. If you want to view our green roof, which is one of our many sustainable initiatives in order for the park district to 'go-green', stop by the picnic pavilion and view our living roof. Then mosey over to the relaxing and beautiful sensory garden, where you can sit and listen to nature all round you.
Our community garden is another highlight of the park. It is a great place to plant a variety of plants, to perfect your 'green thumb', and grow closer with your neighbors in this community-fostering environment. We have 90 plots, each approximately 100 square feet, which are available for seasonal rent.
If you're looking to play sports with friends and the community, then Tolentine is the place for you! At the park we have 2 basketball hoops, each with a three-point arc. We also have plenty of open fields, perfect if you want to start a game of soccer, baseball, or ultimate Frisbee.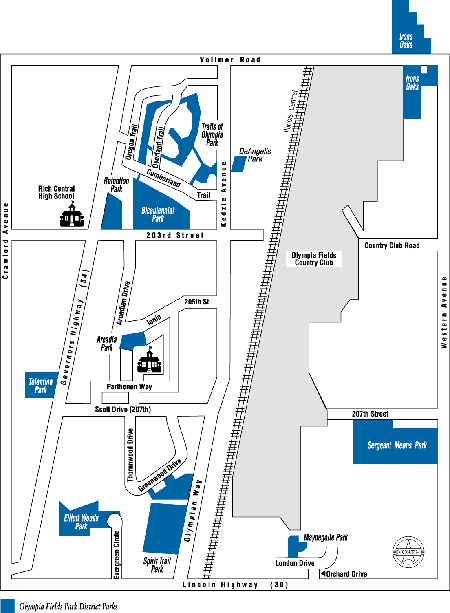 Baseball Fields
Arcadia School (1)
Bicentennial Park (2)
Sgt. Means (1)
Soccer Fields
Arcadia School (1)
Bicentennial Park (3)
Maynegaite Park (1)
Sgt. Means Park (2)
Disc Golf
Sgt. Means Park
Tennis Courts
Sgt. Means Park (4)